Overview of AC motors and DC motors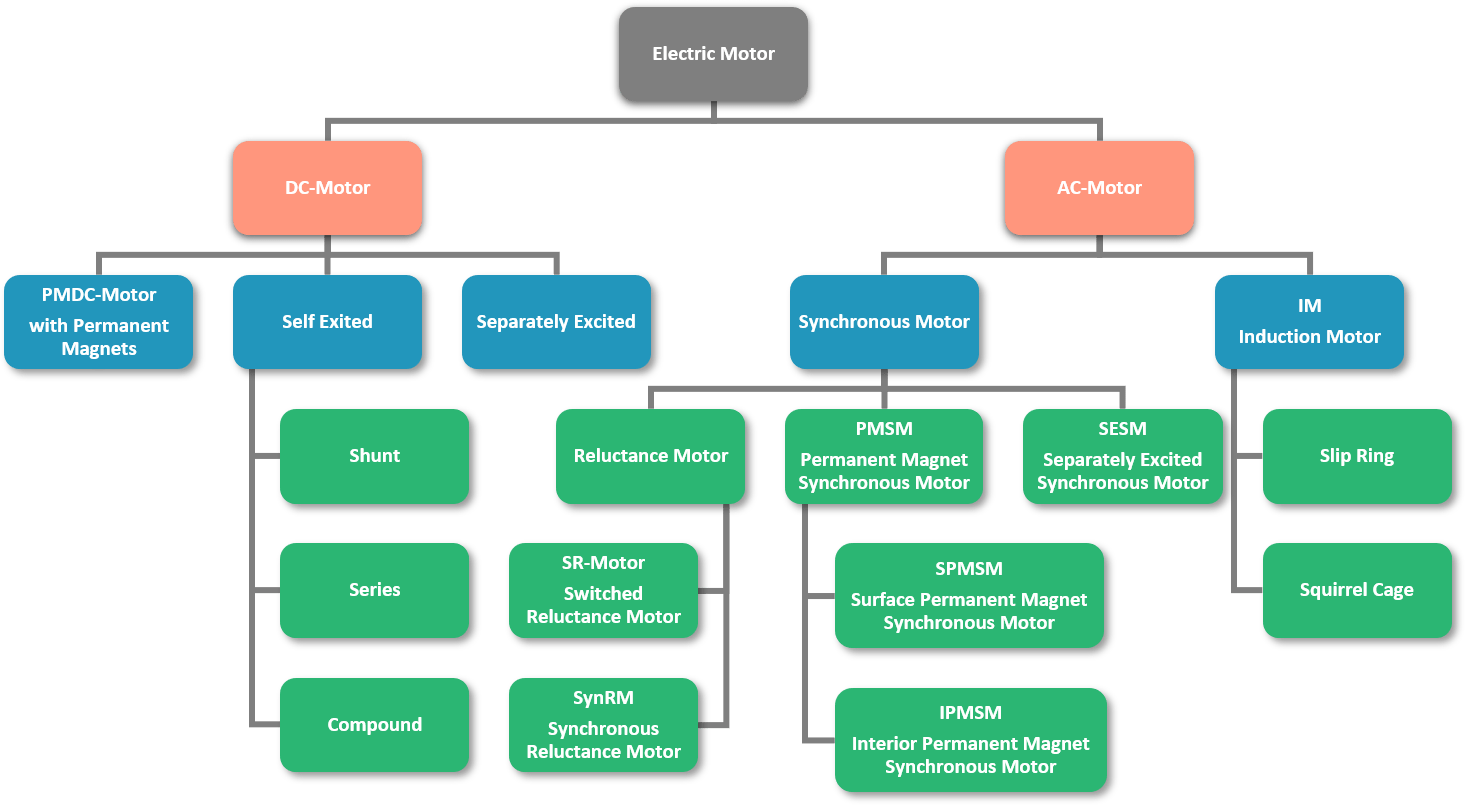 Due to their high­er pow­er den­si­ty and bet­ter effi­cien­cy, AC motors are pri­mar­i­ly used for elec­tric vehi­cles. The bat­tery of elec­tric vehi­cles sup­plies a DC volt­age, so an invert­er is still need­ed for AC motors.
Electric Motor with Permanent Magnets
Reduction of the Magnetic Material of PMSM
Syn­chro­nous machines with per­ma­nent exci­ta­tion (PMSM) have per­ma­nent mag­nets in the rotor. Depend­ing on the type of mag­net mate­r­i­al, demag­neti­sa­tion of the mag­nets can some­times occur at too high tem­per­a­tures. The elec­tric motor then no longer has its full torque. If neodymi­um-iron-boron is used as the mag­net mate­r­i­al, it con­tributes sig­nif­i­cant­ly to the cost of the motor. If the mag­nets are arranged favourably in the rotor, a reluc­tance torque can be utilised and thus the mag­net mate­r­i­al used can be reduced. We help you to reduce the amount of mag­net mate­r­i­al with­out reduc­ing the motor performance.
Induction Motor and Asynchronous Motor
Robust and Cost-Effective Electric Motors
In an asyn­chro­nous motor, the rotor runs slow­er than the rotat­ing field of the sta­tor. In oth­er words, the rotor runs asyn­chrone to the mag­net­ic field of the sta­tor. The speed dif­fer­ence induces a volt­age in the short cir­cuit cage, which leads to a mag­net­ic field of the rotor. This is why the asyn­chro­nous motor is often called an induc­tion motor. With the right con­trol strat­e­gy, induc­tion motors today can achieve sim­i­lar­ly high effi­cien­cies as motors with per­ma­nent mag­nets. They are very robust against high tem­per­a­tures and cost-effec­tive in production.
Synchronous Reluctance Motor
Low-Cost Alternative to PMSM
As reluc­tance motors do not require per­ma­nent mag­nets, they are inex­pen­sive to man­u­fac­ture. How­ev­er, a high­er phase cur­rent is usu­al­ly required, mak­ing the invert­er more expen­sive than a motor with mag­nets. A dif­fer­en­ti­a­tion is made between switched reluc­tance motors (SR motor) and syn­chro­nous reluc­tance motors, which have a small­er torque rip­ple and a high­er effi­cien­cy. The air gap has a great influ­ence on the effi­cien­cy of reluc­tance motors and should not be greater than 0.8 mm.
Video about all types of electric motors
Separately Excited Synchronous Motor
Increasing the Speed of Externally Excited Synchronous Motors
Exter­nal­ly excit­ed syn­chro­nous motors (SESM) do not have per­ma­nent mag­nets in the rotor, but cop­per wind­ings which gen­er­ate the rotor field. The mag­net­ic field of the rotor can there­fore be adjust­ed by the lev­el of the cur­rent. A dis­ad­van­tage is the addi­tion­al elec­tron­ics required for the rotor cur­rent as well as the brush sys­tem to con­nect the rotor with the elec­tron­ics. We help you to increase the max­i­mum speed of exter­nal­ly excit­ed machines in order to improve their pow­er density.